Travel
People came from the local Southern California area, Northern California (470 km), Arizona (590 km), Colorado (1360 km), and Texas (2200 km - about the distance from Brussels to Moscow) to race as well as test and train for F2C.
Amongst others people there were Kusic and Braun F2C team members from a decade or so ago, Bill Lee team member from 80's and 90's and now the job EVERYONE wants; Team Manager, Don Jehlik world champ from the 60's and later a jurist, John (5K) Bruman, and Dale (the legend) Kirn with a box of Cox parts from the days (as we say in So Cal) "when they made things that were any good".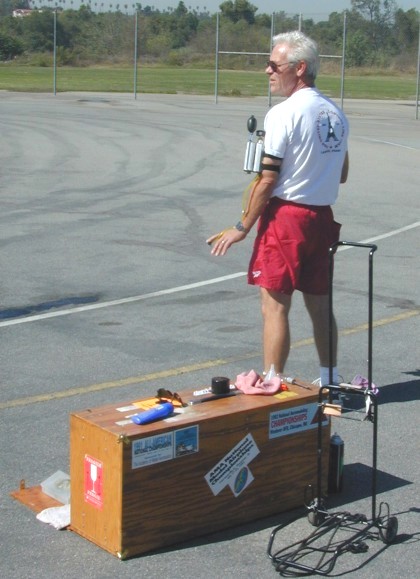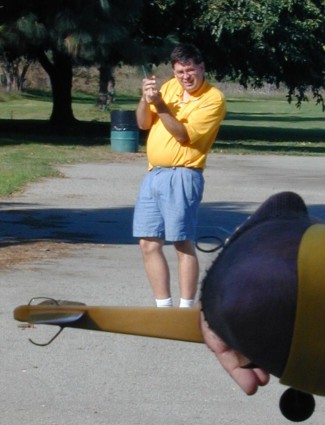 Above: Len Ascher
At the left Len Ascher of Ascher/Ascher who has flown in several world champs and F2C events on the international calendar. He is wearing a nice new (clean and shiny this time) pressure fueling setup and stands next to his much traveled model box.
I have larger versions of any of the photos in this whole section. If you would like one, just e-mail me. Go back to the home page and you'll find the link in blue near the top of the page.
Left : Pulling the Mouse
Jim Holland, whose base is in Arizona but who has been working in Southern California in the last two months showed up to try F2C with Bill Lee. Here, however, he is testing the pull strength of his Mouse I racer.